40
Tunbridge Ware Sewing Box with Inlaid Ships
From Perry-Joyce Fine Arts.
The box dates to around 1880. Probably custom made for its owner. Mostly walnut. It is inlaid not only with Tunbridge ware throughout, but it also has inset several types of rare woods in the lift top and the front panel marquetry, including boxwood, that have been stained to add color to the pictures of the ships.
The box is in superb condition. The seller had the box professionally restored and polished in the UK. The refinisher put on a transparent French polish and finish with antique wax. The warm, deep, and rich color of the walnut and the marquetry of the sailing ships harmonize wonderfully, making for a breathtaking and beautiful piece of art.
14-1/16" W × 10-3/8" D × 5-3/4" H. Photos from the seller.
---
The main ship on the lid is a fully rigged mid-19th century British sailing ship, complete with flags. It is surrounded by a chevron border. The inlaid front panel features a long sailing ship with a lighthouse nearby.
---
The lighthouse on the front panel.
---
---
---
To the left of the ship on the top lid is a lookout tower with a lot of flags. The three flags vertically give a message.
---
---
The left flag is a backwards French flag.
---
---
The tops to the eight inside compartments for the sewing tools, threads, etc., are completely done in Tunbridge ware. Each compartment lid has a single motif in the center made from micro mosaic pieces of wood, as well as a handsome Tunbridge ware border surrounding it. There are two large butterflies on compartments flanking the original central pink velvet pin cushion. Two cornucopias filled with flowers are on the bottom right- and left-hand corners. There are two attractive geometric designs on the right- and left-hand corners. Beneath the pin cushion is a larger rectangular compartment with a micro mosaic floral design, again surrounded by its handsome Tunbridge ware border.
---
A micro mosaic Tunbridge ware setter, happily lolling in its place, is on the large rectangular compartment above the pin cushion.
---
Each compartment has a hand-turned knob.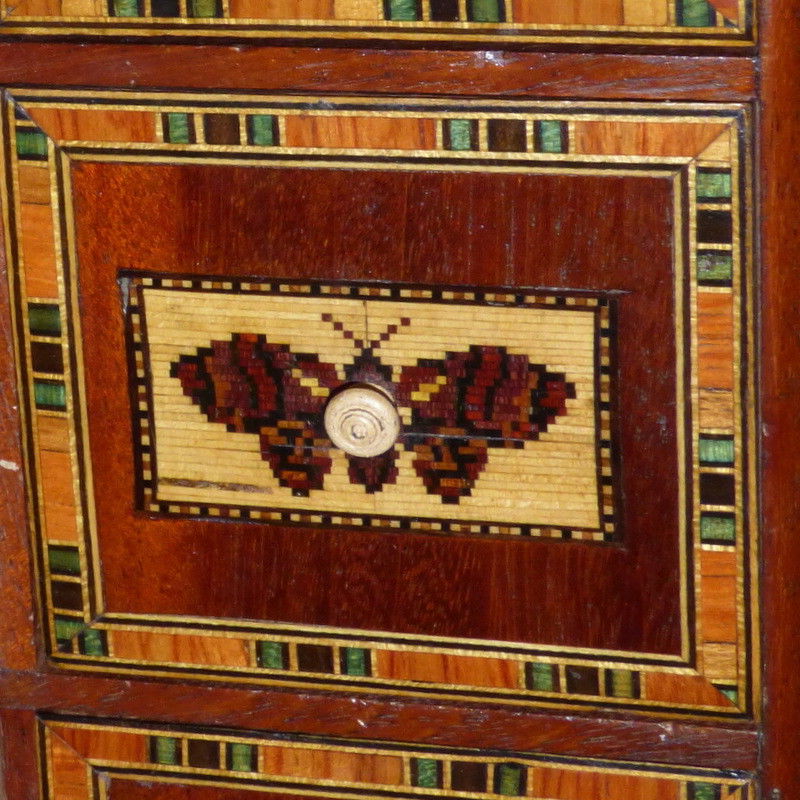 ---
The lift-out tray in which the compartments rest has rounded top edges. To lift the tray out, some tops need to be removed in order to more easily remove it.
---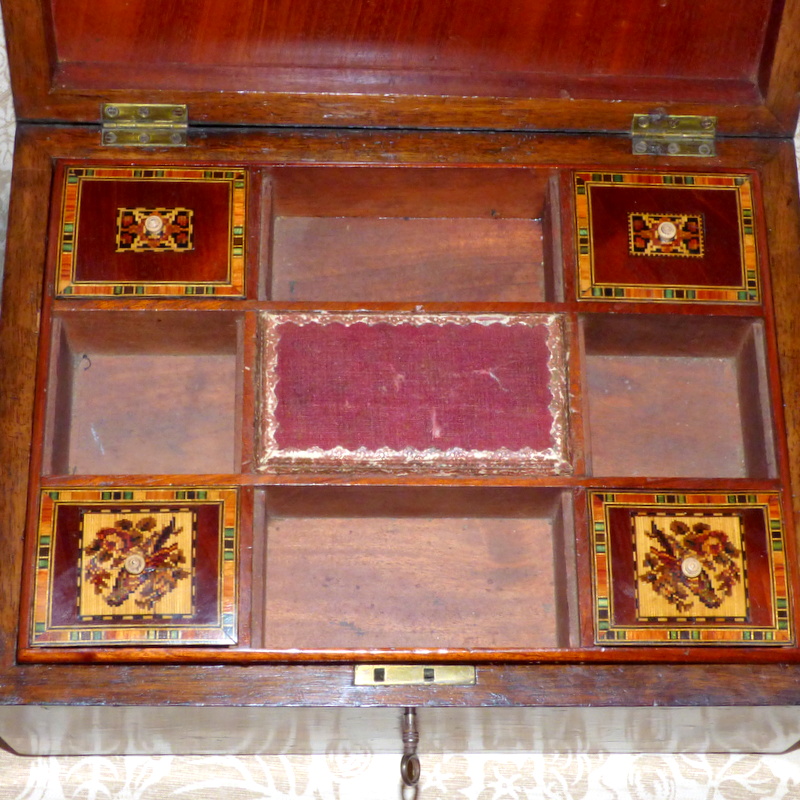 ---
The inside of the lid is mahogany.
---
The inside of the box is clean and in the original finish of the wood.
---
The box has a heart-shaped inlay where the original key fits into the original lock. Locks and keys were popular for this type of box as sewing tools were often made of expensive mother-of-pearl, ivory, and sometimes precious metals such as silver.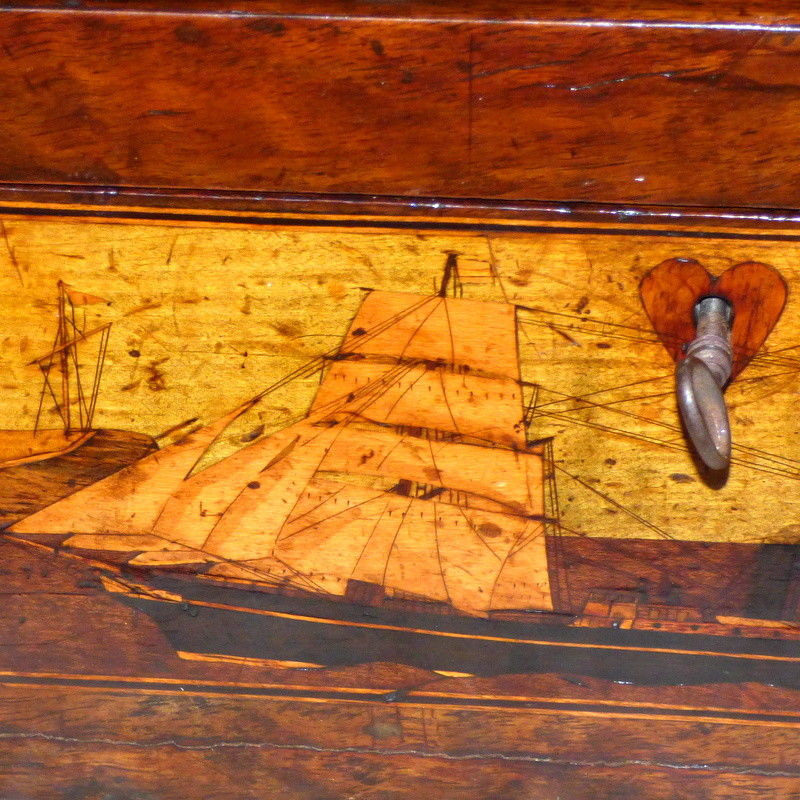 ---
On each side panel there is a decoration of a Tunbridge ware border.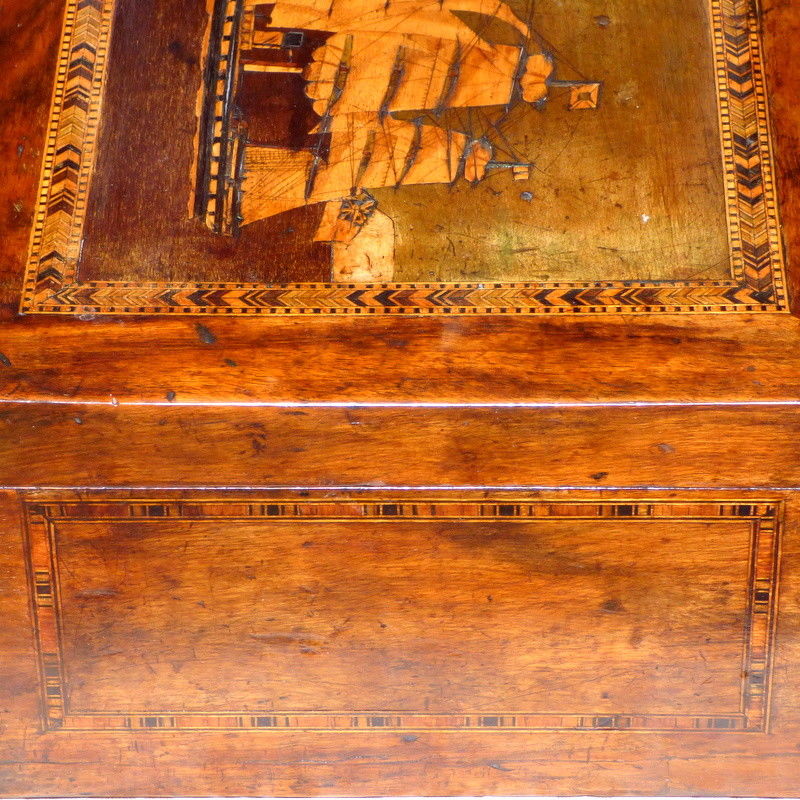 ---