My Mom's Burnt 1999 Ford Explorer
On June 26, 2017 the engine in my mom's 1999 Ford Explorer started smoking while she was parking at the Community Garden. She thought it was overheating and the radiator needed to be looked at. She drove it to nearby New Palumbo Auto Repair to have it checked out. The fire intensified. New Palumbo's parking lot is tight. They had to rush to move other cars away from the burning car. New Palumbo employees used two fire extinguishers to try to put it out. They were not successful. The fire department was called and they put it out. Mom likes to remove the gardening things from the back before taking the car in for service. Hence not much was in it.

The car had just come back from a basic checkup and oil change at the selling dealer: Salerno Duane Ford. Checking the web I find that these cars had been recalled back in 2007. The cruise control's cut off switch in the brake was starting engine fires: Massive Ford Recall to Fix Fire Hazard: Despite Earlier Recalls, Fords Have Continued to Burn The car has always been serviced at the dealer. Checking Recalls Look-up by VIN we found no outstanding recalls. The cruise control recall was done on this car on May 8, 2008. But... The fire was right where this control is located. Did the recall totally fix the problem?

This is the only picture. Taken just before it was towed to the junk yard. Original-sized image is behind web-sized.

My brother found a 2008 Ford Escape Hybrid at a local dealer. A low mileage trade in that had just come in, and was posted to the web the day my brother saw it. She bought it. The car is very similar to the Explorer, meaning minimal change for an elderly person. And the same dealer can maintain.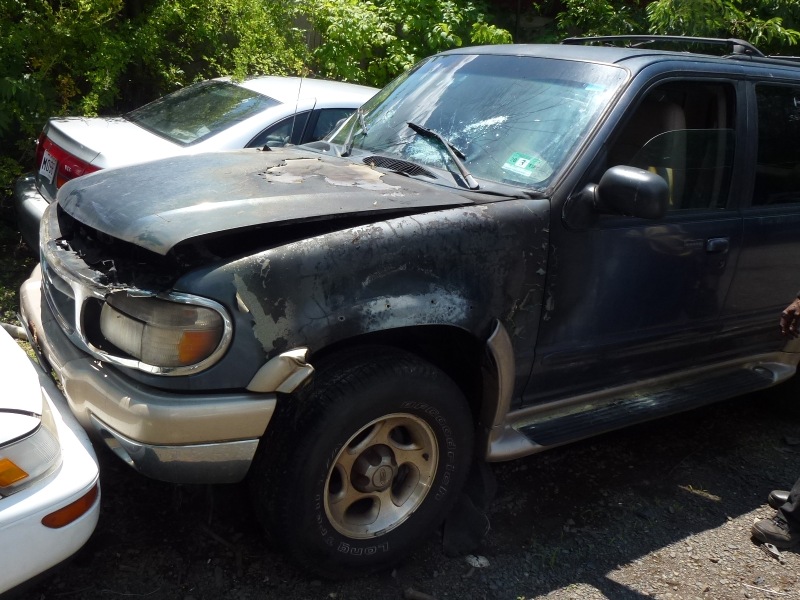 ---
Return to Don Wiss Home Page