Recommended Home Improvement Services
Park Slope, Brooklyn, NY
I have used all but a few of the businesses listed below. Not all trades are listed. Some trades I don't have one to recommend (e.g. architect, wood refinisher, window place, paperhanger). I have some window washer cards and gold leaf cards, but I have never used one.
Contents to Business Cards Below:
Inside Work:


Outside Work:
Shops:



---
Inside Work
---
Erik Paulsson has been doing electrical work in Park Slope for more than 20 years. He lives at 5th Ave and Union St. His sister moved here, he visited, and he fell in love with the place. He does not own a car. He either walks to the job, takes a bus, or one of his workmen will pick him up.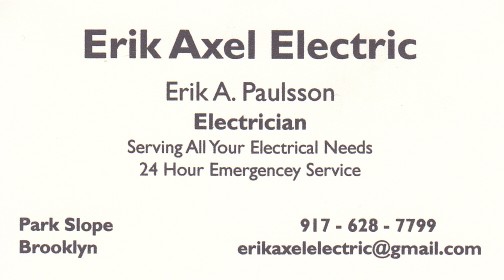 ---
Fitzroy Flemming takes care of a couple houses here on 1st St. Plus he does the things listed on his card. No e-mail. He has a regular job. These things are done on the side. Fitzroy is one of the few here I have not used. One neighbor found him to be expensive.
---
Stafford Elliott can handle all of your floor needs, including installing face-nailed floors. (See my Face Nailed Floor Borders page for ordering the wood.) He has been doing floors for decades. His son Jason now works with him.
---
I have used B & M Alarms for many years. The entire firm is two guys: Joey, whose card is below. And Huey. They work together. You will get to know them. Very personal service. Note these days most of their business is video, both new installations and upgrading to high-definition.
---
Adriatic Wood Products is the place to go for your millwork needs. They can do both small and large run sizes. He makes his own cutting knives. They are making the replacement wood for my cornice. Their website.
---
When bicycling back from Fairway I passed by Premium Millwork and picked up a card. Much smaller and closer than Adriatic listed above. But calling them I found that they only take major projects. Their website.
---
Juan Marcos Myerston is a cabinetmaker. He made my Ipe deck and pergola. And oversaw the wood part of restoring my cornice. Now doing business as Pinocchio Woodworks. His website.
---
Many years ago I needed new stairs to the cellar. The soil floor that was here when I bought the house had rotted out the bottom. Plus the new concrete floor wasn't the same height. Soxco Stairs built me perfect stairs, which I left unfinished. Their website.
---
I used Mr. Sewer in 2003 and 2016. The second time was a really problematic job, but he solved it. By 2016 he was going by Clogbusters. He probably isn't the closest. On the web I find him out at 1536 Rockaway Pkwy in Canarsie. His website.
---
Eddie can custom make plaster medallions and plaster crown moldings. For my kitchen he replicated the medallion and crown molding to match the others in my house. The website.
---
If you want to own your own marketing floor plans, Don is the local guy. And the most reasonable. If you look at real estate listings you have seen his plans. I plan to overlay on the plans of my house what circuit each light and socket map to. His website.
---
I use Dan to terminate my network and telephone wiring. You would need to have rather extensive wiring to use him. His website.
---
This firm made lovely mahogany cabinets for my kitchen. Everything is totally custom. They specialize in inset doors. Not local, but as you are buying direct the price is reasonable. Their website.
---
Outside Work
---
As far as I know, Lotus Awnings is the only place left in Brooklyn that makes traditional canvas awnings. When the tornado blew a branch onto my awning they repaired it. They are also a dealer for Eastern Retractable Awnings.
---
Premier Roofing is the closest roofer to Park Slope. Unlike Greene Roofing, where you don't know who you will be dealing with, at Premier it is Fred, or maybe his brother. Their website. E-mail is on the contact page.
---
Vinroy Baronette started as an assistant mason in Park Slope in 1979, working for his dad. In 1989 he took over the business. He has done a lot of work for me. He is always busy, partly as he is Berman Realty's go-to guy for all the work on the properties they own and manage. So you may have to pester him to get him to come.
---
Chris Barronette is Vinroy's younger brother. You can hire him directly for small jobs. He doesn't have all the licenses and insurance that Vinroy has.
---
When I wanted to restore my cornice word got out and Moe appeared. He doesn't have men that can do woodwork, so I hired him and Pinocchio Woodwoorks to do the job. Bravo hired the boom lift, stripped the paint, and painted. Pinocchio subcontracted the woodwork, and hired Adriatic to make the knives for the wood that has curves. The subcontractor made the rest of the wood and did the installation. Bravo's website.
---
I have known for a long time that day laborers hang out at the Home Depot. Recently I've seen some at Lowes. So I stopped and chatted with them. The ones at Home Depot are Jamaicans and Trinidadians. At Lowes they are Guyanese. They all have vehicles, so I could hire them on my bike and they would get to my house themselves. One gave me a card, which is below. At the time I had four boxes of rotten wood from my cornice restoration. I texted him. He gave me a price. My contractor said it was good. And a few minutes later the wood was gone.
---
Allen McCullough is the go-to guy in Park Slope to revive your gas lantern. The mentioned video can now be found at the Brownstoner. Click on image for large easy to read size.
---
This firm has installed solar panels on my roof. You get a 30% Federal tax credit, and a 20% NYC Real Estate Tax abatement on the work. There is also a State tax credit, capped at $5,000. I have some $250 referral cards. Contact me for them. Their website.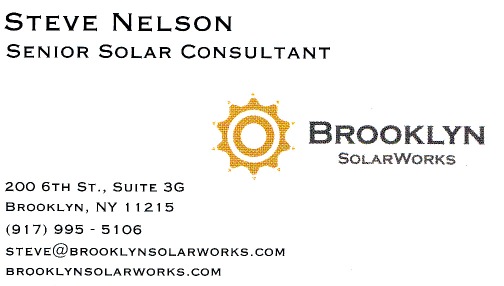 ---
Boro Land Surveying is the only local surveyor. He is very busy and very hard to get. If he has surveyed a contiguous neighbor, that will also appear on your survey.
---
Nigel Rollings made really lovely mahogany side fences for me. Then we had a falling out. He refused to let me plant a vine to cover a back fence towering 8' over my backyard. He is not into native plants, which I want. His garden designs tend to be formal. He likes water features and art. He likes symmetry, I like wildness. I have a more practical outlook than he has. Compared to some other garden designers his prices are very reasonable. His e-mail address can be found on his website.
---
A.J is the local iron place. They have a big shop on the canal side of 3rd Ave. They do small jobs on Saturdays. Their website. Call 718-237-2642.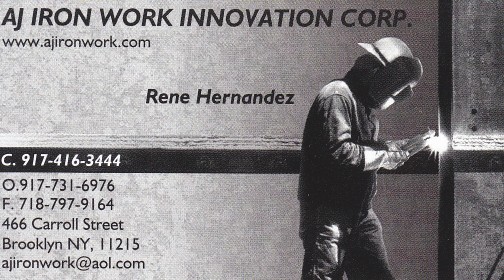 ---
This is the go to place for insulating our houses. They offer many types, but the only thing feasible for us is to blow insulation inside the roof. They will leave behind two roof vents. This will allow you to then seal up the skylight, which was the original venting. Their website.
---
Scaran is out in Southern Staten Island. They are included here for those that want the comfort advantages -- like I do -- of Carrier's top-of-the-line variable-speed Infinity System. If you want something simpler, you are better off with some local installer. Scaran's website.
---
Shops
---
Shannon Florist is my favorite nursery to pick up plants. With my BBG membership card I get a 10% discount. Their website.
---
The 5th Ave Keyshop can make "skeleton keys" for the warded locks found in our houses.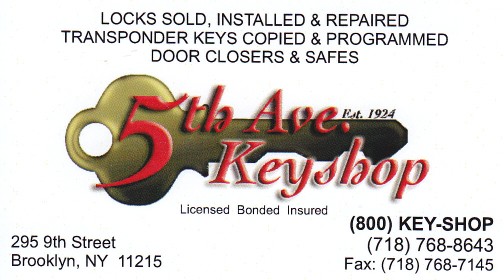 ---
You are probably familiar with Peter Romano's Stained Glass Store. Now at his fourth location, he has been in Park Slope since 1976. He can restore any of the stained glass in your house. He will come to your house to take it out and put it back, but only within Park Slope, and a few nearby neighborhoods.
---
I needed a demolition hammer (aka jack hammer) to bust up a low brick wall in my back yard. My Tool Rental & Equipment had three sizes of the electric ones. I rented the smallest. It did the job. Then to restore my cornice we needed a boom lift. They came through. They have any tool that you might need, but don't own. Their website.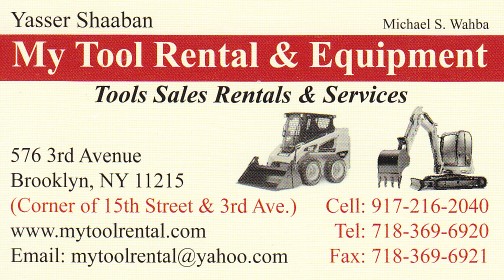 ---
Jamaica Building Materials is where I bought the Belgium blocks that I use standing on end for my garden borders. When I stopped back to pick up this card, I found that the blocks are no longer kept at this site, but they bring them in for you. Blue stone is stocked here. They are not far. They are just east of Grand Ave.
---
This is the only place I know that uses a wet wheel to sharpen your scissors (and knives). I asked one of the two trucks that drive around, and he uses a dry wheel. There is a good reason why you only want your scissors and knives sharpened on a wet wheel. Scissors and knives were tempered when made. Without the water the metal overheats and loses its temper. Then it won't stay sharp for very long.
---
Roy Electric once was in Park Slope at 7th Ave and Union, along with a row of storefronts on Coney Island Ave at Foster. Then a store in Westfield, NJ. Now located in a warehouse on Staten Island. The prior owner of my house bought many lights from them. I have bought more. And I used them to polish an antique brass and copper pump. Their website.
---
I have used Bear Glass for mirrors. They resilvered an overmantle mirror, they made an overmantle mirror with a beveled edge, and they made me a small mirror out of Starphire glass (clearer than regular glass). I ended up with free delivery for all. Their website. The 20th St location is very near 7th Ave. Production now takes place in Queens Village.
---
Back to Don Wiss's Home Page